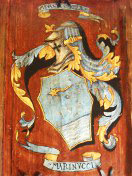 In Bevagna, in the heart of Umbria and on the road of the famous grape Sagrantino, you find the farm 'La Fonte'.
The farm offers to its guests the ideal holiday for those who wish to find peace and tranquility and at the same time wishes to enjoy the historical and priceless art the neighboring territory has to offer. The farm villa has a panoramic view of the valley and Monte Subasio from which Assisi and Spello rise on the hillside. It offers four flats, restored with love and with the taste of someone who loves this land. Furnished in a welcoming way and provided with all comforts which might be needed during the stay.
The agritourism has a private swimming pool, a barbecue, car parking in the shade,  an outside veranda with an arbor for each flat and free Wi-Fi connection.
Within the fenced private property, approximately 25 hectares, composed by olive groves, vineyard and forest, it is possible to enjoy walks or mountain bike excursions, and if you are lucky you might spot wild animals such as squirrels, porcupines, hares and buzzards.
Who might desire to participate in helping with farm work such as grape harvesting or picking olives are welcome to join us. You are also welcome to taste our extra vergine olive oil and the famous Sagrantino wine produced by the farm.
Bevagna is a small town with only 5.024 citizens in the province of Perugia, Umbria.
Once known for its fine canvas produced here and so famous that they were given the name  'Bevagne'. Bevagna is situated in one of the most beautiful villages in Italy. Roman municipality (Mevania) experienced prosperity during the imperial era. Roman remains (the theatre, baths with exquisite mosaics, the remains of a temple from the second century d.c. and a Roman Domus) and charming medieval architecture combine to make a pleasant visit to this town centre.
Among the most important monuments are; 'Palazzo dei Consoli' from 1270, which nowadays is used by the theatre 'Torti', 'Piazza Silvestri', one of the most important Medieval squares in the region. Here you can visit the church 'San Michele", which was built in the end of the 12th century, and the church 'Sam Silvestro' finished in 1195. In the town museum paintings from the Umbrian school of painting and excellent sculptures can be seen.
Every year, for the ten last days in June, Bevagna becomes a Medieval village for the town festival called 'Gaite', the old name for the neighborhood, with street markets, parades, competitions and traditional cooking where old recipes are used and served in 'Taverne', typical small taverns. All is relived with the citizens dressed in splendid time period costumes in a joyous and relaxed familiarity.
BOOK YOUR STAY IN UMBRIA NOW
The road of the famous grape 'Sagrantino', an itinerary of the land were the famous wine Sagrantino DOCG is produced.
WHAT THEY SAY ABOUT US: